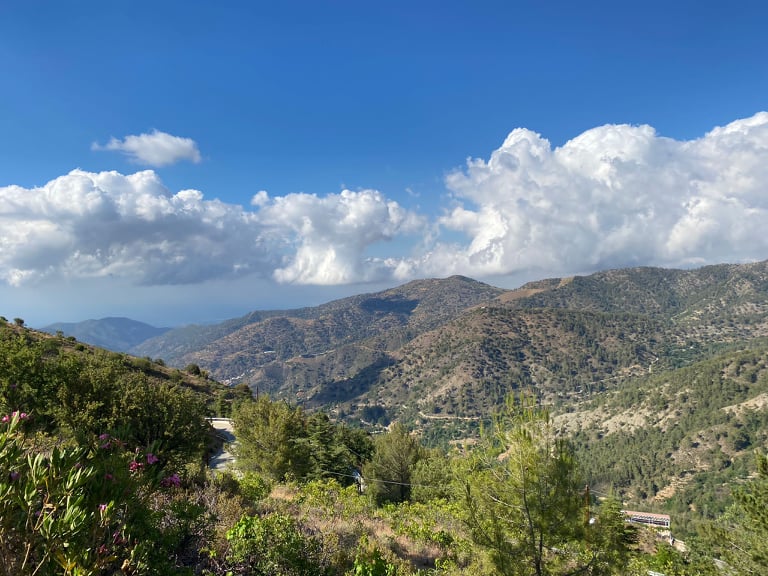 Account of European volunteering in Cyprus
View from Fidkias Hill above Pedoulas on Marathassa Valley
Spring 2021: dismal times to find opportunities, even less to schedule travels. Still I have been chosen for a project in the Troodos mountains, basically to pick up fruits and clear roads. Escaping a gloomy atmosphere to join a gang of foreign youths, on top of that largely subsidised, was a benefit/burden satisfying enough. Then I signed up for a one-month stay in June to discover some otherness in this faraway country, politically in Europe but to many aspects grounded in the Middle East.
The journey started by packing luggage, chatting with my would-be mates and propelling me to the place. We abolished social distance, gathering one by one on our way through the sky to Pedoulas. I met Camille at Charles de Gaulle airport, Sawen at the Larnaka one, Carlos, Paula and Marta in the suburbs of Nicosia – meeting one another when popping out of the same shuttle ! Us together collided with Diego near Solomou Square, prior to taking the bus 405. After a twelve hours-trip, even longer for some, our henceforth large group settled in Γυμνάσιο Πεδουλά, a middle school shut down for a couple of years now. Eventually completed with Adriana, Ana, Cristina, Rares, Maïra and Leon, the World Wide Village overcame Covid-19 to revive for its 2021 edition.
Map of Pedoulas made for purpose of WWV project
First thing first, getting to know the place and people. For that, two days of "training", actually more of summer camp, making a map of the town, hiking, tasting dishes in restaurants but also cooking an international dinner, naturally punctuated by growing small talks in English, Spanish and French a bit. Let's be honest: team building was made easier when we followed up on a week-end down to Λεμεσός/Limassol. This first trip in autonomy was no easy way. No bus was waiting for sure when we reached Prodromos: we split in half, some of us taking a taxi, other people hitchhiking. When arrived at out target, we discovered the writing Лимасол to name the city given the amount of menus, property projects and signs in Russian wherever in that seaside resort. Some of our fellows caught us up with plenty of plums, other foods and even money given by their drivers, notably an orthodox priest, while sightseeing tours aficionados went to Kykkos monastery attending a mass. Our barely full squad headed in the late afternoon towards Governor's Beach, daydreaming in a little van with "good vibes" music. Overnight after sleeping under the stars, the European Solidarity Corps project seemed even more intense in intercultural exchanges than expected with such promising shared experiences.
Bell tower, entrance gate and archbishop Makarios III's tomb around Kykkos monastery
It was high time for us to start the job, the original excuse intended to European taxpayers ! Waking-up at sunrise for going early at work is a cultural habit explained by hard sunbeams even in the fresher heights of Marathassa Valley. We stand by farm laborers and multitask public servants, most of them in the third age. Teenagers and young adults come back for holidays, before Nicosia tertiary workers join them in their secondary residences during July, August and their searing heat seeking cooler air. By the way, our very neighbours were the mother of Marios – who kindly lent us a mixer – and the founder of EasyJet, but seemingly few ever saw him in the village. One day, the municipality employee brought us near a very extensive and abandoned hotel and he stated that this phenomenon worsened in the last decade. He also blamed the villagers, quite reluctant to abide by new local rules on recycling, hence trash in the streets. In June 2021, there were few Asian and Russian tourists to enjoy trails – that we were cleaning – and small churches dating back to the late Middle Ages, listed to UNESCO. The very first days, all of us but those who picked up cherries expressed to the crew some uselessness in their tasks, perhaps actually feeling disappointment before a deceitful match between expectations from both parts. Indeed some especially chose WWV to have hands-on experience in agricultural fields. Scarce peasants in the village were mainly, if not only, pickers, dealing with steep slopes and deterrent droughts. We would acknowledge later, with forest fires in Eastern Troodos mountains broadcast worldwide, this was a low cycle year for cherries.
Pick-up and proceeding of cherries and other fruits. Much of the work, however, consisted also in cleaning roads and trails.
Nevertheless, free afternoons and evenings have always been for us occasions to explore the environment and its inhabitants. The President elected of the community council of the village Marios, the main contact to the organising association Politistiko Ergastiri Ayion Omoloyiton, paid great attention to our curious band of foreigners, a person we however had to win the confidence of. First sign of this confidence granted – after opening the accommodation, he invited us to one bar one night, the headquarters of youngsters. Furthermore, he played the taxi for fifteen clients in his pick-up and checked out rounds of Keo, one Cypriot largely consumed beer. Day after day, our "employers » routines enabled us to discover more of their lifestyle, a slow but steady one rhythmed by a morning snack made of "Cypriot coffee", almond and fruit sweets, unexpected encounters with friends of them and various activities to make a living. Curiosity about us school premises' occupants arose as we renewed our presence in Pedoulas' life, climbing to the 1986 25 meters-high cross, going to the small grocery shop – way too expensive not to bargain – or again to the Two Flowers restaurant, this time to watch a movie on adventure into the wild, on the terrace with view, cocktail and popcorn. Just before the film show, one of us and a daughter of the owner discovered they were in the same Maastricht university: what a token ! During our stay, we fit somehow if you see the world as "being what you eat", often consuming halloumi – a salty solid sheep cheese – and fruit products of every kind. In spite of efforts from both sides, some misunderstandings and a few quarrels occured. One angry guy of ours got mad after his boss supposedly offered him to "buy" one of his Rumanian fellow citizen girls. Who knows if it was a bad joke, clumsy English skills, a outrage made out of nothing or a cultural shock, the truth is human trafficking remains acute enough in Europe to raise questions. We met many immigrants – namely migrants at one time in their life – during our journey, in our group self, a Russian senior officer, an Indian student in an UK-relocated university, Nepalese or Vietnamese home helps, a Serbian factotum, a Cameroonian jobless, in big cities as well as in our remote settlement.
Frescoes of the New Testament and Saints in Stavros Fithkias Church, Pedoulas, built in 1986
Busy working days, still busy days off. This time we travelled farther to Paphos, our last minute plan after giving up on a incertain – and illegal – techno festival somewhere between the mountains and the capital city. Hopefully we had greater knowledge of bus timetables in order to reach the historic western city for cheap. Time is money, quote we figured out for a long hour after our Airbnb was cancelled 10 minutes before check-in. Mass effect and persistent endeavours of our Spaniard girls permitted us to enter a hotel for twenty-three euros fifty cents per capita all included. It will make sense to the reader that we reached our rooms to leave our backpacks when afternoon reached its end, so that we ran out of time to visit landmarks that day. Just enough to walk around the Tombs of the Kings, mausoleums dating back to Hellenistic and Roman periods. Few of us were careful enough to rest for a "safari" on the following day to the Blue Lagoon, Aphrodite Baths and other protected areas but the main had parties on Bar Street, the pandemic already consigned to oblivion. Actually, one of us couldn't leave Cyprus immediately after the project after being tested positive… and three other people had fallen so much in love with the place that they were employed in a restaurant until early August !
Sea caves, Akamas peninsula. Environmentalists are fighting to save natural heritage from new buildings and the reduction of protected areas in this national park.
One shower – "Don't waste water. Cyprus faces severe droughts", one length in the swimming pool after a rapid breakfast catered by staff from Poutine's country and we go back on the road – with free extra food. We are laying on the sand after 3 pm, quietly appreciating or ignoring Akamas peninsula landscapes. Ten days after incoming, deeper feelings emerged: obvious strong friendships and discreet flings. On the way back to Pedoulas, three fellows were driven by a father militarian and his conscript son, my group by Konstantinos, a mechanic in Limassol, icon of the Παναγία/Panagia/Mother Mary on the dashboard, a bit expected for a son of refugees from the north of the island. More than the common images of the saints in public and private spaces as an expression of faith, one striking fact is the ubiquity of the Γαλανόλευκη/Galanólefki/Blue and White flag, on the front of houses, churches, some schools and even some public venues. This very "special relation" with Greece is also visible in official events: Nicosia municipality organised public exhibitions to commemorate the bicentennial of the Greek independence war and Pedoulas built a memorial for Balkan wars fighters. In the Northern part, nationalists also play with dates to shape today's politics, for instance with Erdogan's visit on July 20, forty-seven years after Turkish forces' invasion.
Faneromenis Street, old Nicosia, decorations in June 2021 for the bicentennial of the Greek Revolution
Discussing the Cyprus dispute openly with locals was seldom but always deep talks. Checkpoints on the green line reopened this summer, but few Southerners would cross it and then implicitly recognise the legality of the invasion. After a lonely visit to the Cyprus museum and its storytelling about past human societies on Aphrodite's island, it was the moment for me to let my new European family and fly back home.
Emeric Durand
---
Acknowledgement
Many thanks to K. Salem and A. Coquin for their attentive correction
All pictures were taken by volunteers of WWV 2021 Pedoulas
The European Solidarity Corps is a program organised by the European Union, which aims to offer intercultural experiences for people between 18 and 30 years old from two weeks to more than one year. Transport, food, health insurance, accomodation and pocket money are supplied by local associations funded by Brussels. A special emphasis is laid on projects impacting the environment, communities and young people with fewer opportunities. Projects and application procedures can be found on the website https://europa.eu/youth/solidarity/
Materials:
European Youth Portal – World Wide Village
Pedoulas Village – official website
Pedoulas Village – tourism information
Cyprus : Fire breaks out near Arakapas in Limassol. (2021, July 4). Greek City Times. Kokkinidis, T. (2021, July 19). Erdogan Torpedoes Cyprus Talks in Occupied Nicosia Visit. GreekReporter.Com.